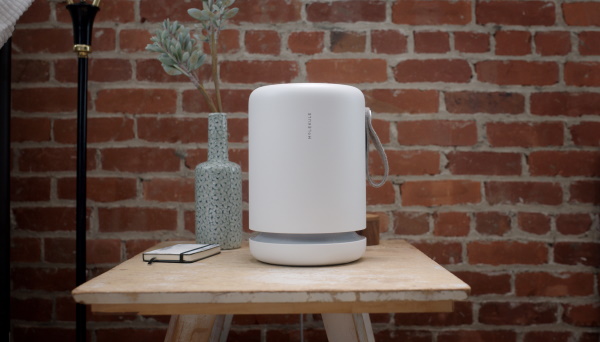 The Molekule air filter has been one of the most controversial air filters of our time. It first gained traction around 2016 when Dave Asprey and The Lifestylist endorsed the product. However, after some controversial YouTube reviews, they recently had their endorsements pulled. Despite this, I noticed improved reviews on Amazon (of course not a true indicator of improvement as reviews can easily be forged). 
Traditional filters have a thick piece of fabric that pulls air, which attempts to strain the particles from the air and are coated with a special nanocatalyst. When the catalyst sees light from LEDS, it creates a chemical reaction that destroys molds, formaldehyde, bacteria, viruses, airborne chemicals all getting broken down into their most basic form like water, oxygen etc. So it's the first air purifier on the market that actually focuses on destroying contaminates rather than just filtering them out.
What about the Wirecutter Review? 
18 peer reviewed studies on the actual core technology used and has featured in academia for 20 years.
Wirecutter didn't have the sophistication to test the Molekule technology and forgot about a lot of air tests. The testing methodology wasn't living up to scientific standards and was ignorant of vast swathes of pollutants in the air. So, the main benefit of Molekule is that it filters out substances that other air purifiers don't, and in the Wirecutter review, they weren't testing for those contaminants. The Wirecutter review was a speed test which wasn't a true reflection of the Molekule's ability. There's an industry level test that gages the comparative differences on the scale of "Clean air delivery rate" tests,which cost $5000 per device per test, and Wirecutter was unable to get that test.
In traditional filters that catch pollutants, potentially these pollutants can go back in the air. Because Molekule is trying to destroy the pollutants, it can take more time to reach the same speed as other HEPA filters in terms of filtration. Molekule's technology takes a lot longer to destroy the air contaminants, so the speed test that Wirecutter did was not a fair representation of Molekule's true abilities.
Pricing: 
The Air Mini comes in at $399 plus shipping fees and tax fees on Amazon to the EU and UK. You're looking at this totalling around $450 if you're an EU buyer, making this one of the costliest air purifiers on the market. They often do sales though on events like Black Friday, so it can be worth checking them out. Sometimes these sales are anywhere between $100-150 off their range of models.
Mini :
5 Fan speeds
Hybrid filter that has a pre filter that captures large filter ants then a Peco filter (patented technology) that uses light to break down the molecular structure of those.
Through the app, you can see how long your filter has left.
Comes with a two year warranty, which is an industry standard for this type of air filter, although much less than the Austin Air and IQAir.
Modern Castle's Test on the Molekule in terms of air quality improvement after one hour on as follows:
P.m 2.5 Change from 3.9 To 0.6
P.M 10 : 5.9 to 0.9
Particulates: 329 to 49
AQI: From 16 to 0 
Source : https://moderncastle.com/molekule-mini-review/
Advantages: 
Beautiful, slick looking design. Of course, when it comes to air filters, it should always be about what can filter air the most effectively rather than what looks most beautiful. But if, for example, you own a shop and want to put an air filter in, a big clunky Austin Air or IQ might not have the same appeal as a Molekule Air Mini, which is easily the best looking air purifier I've owned. Looks wise, it blows all others out of the water.
Easy to transport – good to use for travel and when staying at hotels in which you're unable to tell if there are molds or airborne chemicals around.
The peco technology is something that actually kills mold spores, which is something which HEPA filters can't do. For those living in moldy environments, this filter, on the face of it, seems like a must.
Used very little non-sustainable packaging – came packed in recycled cardboard with very little plastic.
Overall, a lot of positive reviews by reliable influencers like Todd Shipman and Ben Greenfield. They still have reputable people that endorse them. Todd Shipman himself noted that his daughter's allergies were decreased, and it helped him with his mold sensitivities.
Great build quality and sturdy design – seems to be the sort of device that can travel well.
Peco technology has been around for over 20 years with 18 studies to back it up with, so the major unique selling point of this product is backed by science.
A large percentage of people on the Toxic Mould Support group on Facebook have vouched for the product, and I see that group as being a very respectable one in terms of knowledge on air purifiers and air quality.
I noticed a slight improvement in the air quality of the rooms I had this on in.
The low level sensor isn't loud enough to interfere with my sleep personally.
Disadvantages: 
Air filters need to be replaced every 6 months on average. I've not experienced any air filtration device that's needed its filters replacing so often. This can make owning a Molekule extremely costly in the long run. These filters cost around $50 to replace adding in tax and shipping, and for EU owners, this can become even more costly.
Expensive for what you're getting – for the area it covers, there are alternatives on the market that can cover a much larger area for a smaller price and require their filter to be changed a lot less often.
Still concerned over the speed and efficiency of the product – the Molekule CEO Jaya Rao mentioned in her interview with Homekit Insider that it does work slower than the other air purifiers on the market, and this was seen in the Wirecutter review.
LED light at night is incredibly annoying to sleep next to. As someone who wants to optimise their sleep, you really want to make sure you live in a blue light free environment. Unfortunately due to the fact that the Molekule relies on blue light to kill mold spores, this thing emits a tonne of blue light that can disturb your sleep. It would've been a lot better if they used a different spectrum of light like a red light which doesn't interfere with blue light. It could've been more advantageous especially as we now know even small amounts of junk blue light can impact sleep at night. I most definitely wouldn't want to sleep next to this product at night. There are other filters on the market that emit way less.
Still quite heavy compared to other portable air purifiers like the Hypoallergenic Air Boomerang and the Germ Defender, with those two costing a lot less to maintain in the long run.
The highest sensor is annoyingly loud and is not something you want to be in the same room with.
Conclusions:
The Molekule is probably the most controversial air purifier around in the biohacking scene for a while now. It's certainly gained a lot of media press and coverage following that Wirecutter review. Personally, I wouldn't say it's worth the price from a UK perspective as of yet. Certainly in your own room where you sleep at night, I wouldn't leave mine on due to the outrageous amount of blue light it emits. It would be nice of them in the future to release a "blue light free" version. However, I find if you're traveling or moving to another country, it's definitely an easy way to combat questionable air quality. If you have a large amount of disposable income, I'd buy one, but for those on a strict budget, I suggest saving towards an Austin Air or Air Doctor because these cost far less in the long term in terms of filter protection and are more powerful units in general. From a UK buyer on a budget, there's far better bang for your buck out there.
Other Sources of information: For Queries Re the Wire Cutter Review :https://appleinsider.com/articles/20/12/14/exclusive-molekule-ceo-jaya-rao-talks-about-implementing-apples-homekit she provides explanations for the reasons behind Wirecutter's conclusions that they drew Re. the molekule. 
Score 7/10
Molekule's Mold Test:
To buy:https://molekule.com
To buy UK:
Studies on Peco Filtration Technology:https://molekule.com/technology