The CBD oil industry in the UK has long been an industry famous for its corruption and poor quality products with many companies like Holland and Barrett getting a reputation for pulling out poor quality products. So, where do people in the UK go for good quality products? I spent 6 months working at a CBD store in London, and I pulled together a list of the top quality CBD products available in the UK.
What's the most important thing to consider when thinking about what CBD to get?
Does your workplace require frequent drug tests?
Full spectrum CBD contains 0.02 percent THC, which is still enough to fail a drug test, so if your occupation involves drug tests (e.g. police officer or pro athlete) you really don't want to be consuming Full Spectrum CBD oils, stick to the broad spectrum and isolate. Don't risk ruining your career with a negative drug test just because you consumed some CBD oil.
That this is not a cure all.
Perhaps the most important thing to realize when considering CBD products is that this product will not be the be all and end all. During the CBD hype cycle in the US, people have been going crazy for it. I don't think it deserves all the hype it gets. I believe the supplement can be good when used in conjunction with other products, but it shouldn't be over valued, and I believe in the modern day setting it certainly is.
If you have sleep problems?
Buy blue light blocking glasses. In the long term, you'll get a better yield from them than CBD drops.
Have stress or anxiety?
Start a heavy metals detox and buy a clear light infrared sauna, which have both shown to decrease cortisol in the long run more effectively than CBD can.
CBD should be a tool in your arsenal. From my personal experience, too many people look to CBD as a cure all which it isn't. You really need to analyse your environment properly for Mould, EMF, junk light etc. first.
Shipping:
Ordering full spectrum products from America to the EU will hold risks that your product might be held in customs, so please be cautious, due to their low THC content they might fail customs checks. Typically full spectrum CBD oils must contain around 0.02 percent THC or less. During my time working with a CBD store, we had some shipping issues distributing between EU countries and the US, so it's worth taking note of this. Try, if you can, to have the product shipped within your country to avoid these issues.
Where the CBD Oil Comes from
The problem with cheap CBD oils from Amazon or Holland and Barrett is it's difficult to source which country the hemp comes from. The majority of hemp is grown in China which is known for its notorious high use of pesticides, large amount of environmental toxins, mycotoxins, and is usually grown under artificial lights which can make the hemp mouldy and difficult to digest. Hence, this is why a lot of people who start off their CBD journey usually have bad reactions and blame it on the CBD industry being "corrupt" or an "entire placebo". You need to be very aware of where your CBD is grown because the hemp plant absorbs everything in its environment. You need your hemp to be grown in a clean environment, pesticide and toxin free with no artificial lights. The USA seems to be the country best for this. However, there are organic brands coming from parts of Europe that are emerging. If the CBD brand you're buying from cannot identify where the Hemp is grown or whether they are tested for mycotoxins and pesticides individually, then it's most likely that this CBD is going to cause more harm than good. Either take the premium quality or none at all. Ingesting a product with mycotoxins will most likely do more harm than good to you in the long term, and you really don't want to be consuming any health products from China.
Whether the brand does individual batch tests?
The hemp plant is so susceptible to toxins in its environment that you must choose a brand which does individual batch tests and can provide tests for pesticide residue, mould, and toxins. I've compiled a list of brands in this review that does this here.
Make it vape, pills, or oil?
All three have their advantages and disadvantages. With vaping, there's the fashion appeal which can help the younger generation get into the habit of taking CBD. Vaping CBD can also make it act faster in the body. The endocannabinoid system is located throughout the body including the lungs . Vaping CBD can be a great way of getting over a smoking addiction by replacing cigarettes with something healthier. People looking to get over cannabis addiction, CBD can also be a good idea.
For some people who dislike the taste of the oil, pills can be seen as the next best substitute, or for those who are older who do not enjoy swallowing pills, oils are seen as the quickest, most effective way to get CBD into your system. A few drops on the tongue is the most optimal way of getting that CBD into you. The issue with pills is that the bulk of the CBD is most likely going to be destroyed by your stomach acid during the digestion process, so be mindful of this when making the choice.
Vaping
Bloom Farms – Bloom Farms CBD does a variety of vapes and has a big reputation in the US. There are 5 different flavours available in the UK: Rose, Blackberry, Stone Fruit, Sequoia Mint, and a natural CBD flavour. With good variety and available for £45, this broad spectrum blend is a delicious start for anyone who wants to start vaping CBD.
Pros:
Great flavours and variety – something for everyone getting started with CBD oils
Broad spectrum CBD with a company that has a long standing reputation for delivering quality products.
Cons:
£45 for 250 Mg comes in at pretty pricey
Where to buy?
UK Based Members: https://www.moleculehealth.com/collections/bloom-farms US Based Members: https://getbloomfarms.com
The Rational Biohacker rating: 7/10
Lady A CBD Vape:
One of the few actual UK based companies that I'll be reviewing is Lady Lova, which is a brand that derives its broad spectrum CBD from Colorado. This brand also promises to be one of the first in the UK to produce top quality CBD oils . I've enjoyed using their vapes which come in three flavours: Uplift (Citrus) , Unwind (Strawberry), Balance (Orange). An example of real British entrepreneurship innovating the market with healthy, organically grown products that are tested for mycotoxins and pesticides.
Pros:
Great value at £28 for 200 ml broad spectrum is a good price. The best value vape pen I've seen on the market.
Easy to use
Fantastic flavour
A good opportunity to support British Entrepreneurship in the CBD space. There is a huge lack of British based CBD companies, so it's amazing to have a company that's UK based bringing out good quality CBD products. Our favourite UK based company by far.
Cons:
Disposable vape pen, not the best for the environment.
The Rational Biohacker Rating: 9/10
Please support British entrepreneurship and buy these products!
To buy UK: https://www.moleculehealth.com/collections/lady-a Website: https://www.ladya.health
Favourite Brands of CBD Drops and Capsules:
Farmacy Bliss
From San Francisco by my personal favourite Full Spectrum CBD brand from the USA. With third party batch testing, this brand has definitely had the most positive impact on my health. Despite being hard to source for UK readers, there is still one site stocking it, albeit, in small supply.
.
Pros:
Fantastic quality CBD oil, my favourite, the most effective that I've tried.
Great tasting vapes with watermelon and blueberry flavours that combine well with the CBD flavour and terpenes for a really relaxing vaping experience.
High strength for those looking to get a bit more out of their CBD, preferred as a step up to those taking Broad Spectrum CBDs for a while.
Cons:
High strength might be too potent for people beginning to take CBD.
Hard to source in the UK unfortunately
Ordering 0.02 percent THC CBD oil can be tricky in the UK from the US. During the delivery process sometimes the oil can be confiscated or held up, so be careful when sourcing due to this low THC level. Proceed with caution when ordering.
CBD Vape is disposable, which is not the best for the environment.
To buy:
UK:
https://www.moleculehealth.com/collections/farmacy-bliss US Stock:
The Rational Biohacker Rating 10/10
Kiskanu: 
During my time working at a CBD store in London, Kiskanu was the top selling brand. They sell a variety of broad spectrum oils staked with terpenes and herbs. The Day drops include Calendula which is a proven antiviral. The night drops are stacked with Passionflower and perfect for sleep.
Pros:
Was the best selling product during my time working at the CBD store in London which customers found the most effective against sleep apnea.
Organically sourced, batch tested broad spectrum. The day drops stacked with calendula is a powerful antiviral, great for dealing with Covid and other viruses and colds.
Good stack for enhancing sleep quality with additional herbs like passionflower added
Long standing strong reputation amongst the CBD community with batch testing done, tested for moulds, organic etc.
Cons:
Coming in at £100, it's quite pricey for those starting off on their CBD journey, but with 1000 mg it's a decent return. This should last the average person around 2 months if they consume 15-20mg a day
Night drops won't be as effective as red light blocking glasses. If you have sleep troubles please try red light glasses first and THEN CBD drops.
To buy:
UK based blog readers should go to Molekule Health: https://www.moleculehealth.com/collections/kiskanu
US Based Readers: https://kiskanuhemp.com
The Rational Biohacker Rating: 9/10
Quicksilver Scientific CBD oils:
Quicksilver Scientific is a company that has long been praised by people in the Biohacking community for providing good heavy metal detox supplements, but they also provide a wide range of other high quality liposomal vitamins amongst other things. I first came across their CBD range when suggested to use it when parasite cleansing, and it didn't disappoint. They have a Hemp oil and broad spectrum CBD oil, and both are good to use. Only one online store in the UK stocks them – Aggressive Health Shop.
The Organic Colorado Hemp Extract delivers a nanoemulsified oil that is 40% Phyto cannabinoids, including CBD (<0.3% THC). The nanoemulsified format improves bioavailability, allowing for rapid absorption orally and via the lymphatics. The precision pump accurately delivers 3 mg of phytocannabinoids and 30 mg of essential phospholipids per 0.5 mL pump.
Pros:
A fantastic high strength oil good
Liposomal technology has faster absorption rates.
Company that creates high quality supplements all round
Stacked with Quicksilver's Bitters blend, it can be a potent blend against parasites. Visit the parasite cleansing groups for more information:
https://www.facebook.com/groups/1455869871357350
Cons:
Can be a bit pricey for beginners and potentially too strong.
Where to buy?
https://www.aggressivehealthshop.com/popular-brands-a-to-z/q-s-brands/quicksilver-scientific.html
The Rational Biohacker Rating: 8/10
GRÖN: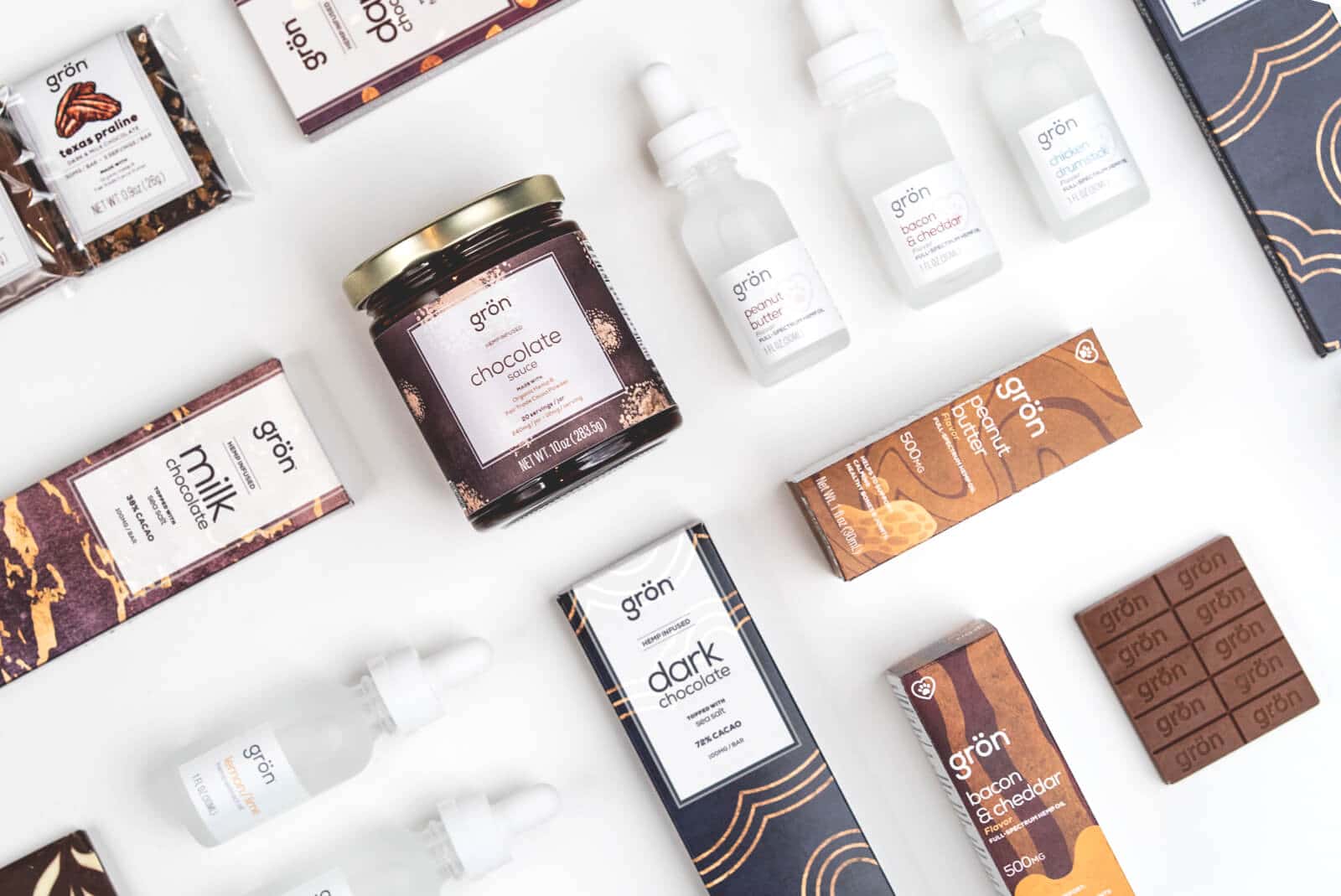 A great Starter brand for anyone early in their CBD journey. A company based in America that stocks a variety of CBD products from bacon flavoured CBD for dogs to delicious chocolate bars. Having worked in a CBD store for a while, this brand has always been the preferred go to starter when recommending to customers, and we received great feedback when selling them. Their brand is quite easily obtainable in the UK, but US based members can benefit from visiting their store in New York too. Gron also sells an elixir that can be fantastic for baking and stacking with bulletproof coffee. The problem with conventional products is they don't diffuse properly throughout the drink. Gron solves this issue by diffusing throughout the drink using their elixir technology.
Pros:
Good starter product for anyone looking to get into CBD oil. Their single isolate formulas can be a welcoming introduction compared to the broad and full spectrum.
Their elixir is great technology for those looking to add CBD to bulletproof coffees or baking.
Reasonably priced compared to a lot of other high end CBD brands
Suitable for pets too with flavour profiles to suit them – e.g. Bacon flavour CBD for dogs.
Has face and neck cream, eye cream, and CBD face masks using all organic products
Cons:
Their sweets and chocolate bars contain very high amounts of sugars which sort of defeats the point of being "healthy" although they have an amazing taste.
Where to buy UK:
Where to buy US:
The Rational Biohacker Rating: 9/10